Here are MORE Essiac stories that were reported to the author from various pet owners after Outsmart Your Pet's Cancer came out! 
If you'd like to share YOUR success story using Essiac for a pet, just write a brief description with your name and phone number and email it to the link below. You may also want to attach a photo of your pet (not required) and state where you purchased your Essiac and what the dosing was.  Thank you!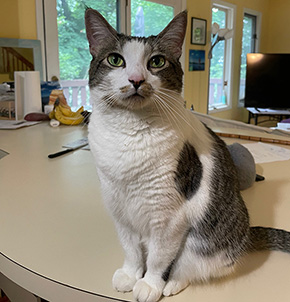 By the time my wife and I saw this cat, some relatives of ours had been handing her back and forth and keeping her outside. She was not well taken care of. In fact, when we first saw her in 2015, we thought she was just a kitten and were shocked to hear that she'd been born a year and a half before. Unfortunately, the wildlife had been taking her food and this young cat was not getting enough to eat. So, my wife and I took her in and named her Maggie. With regular meals, she quickly doubled in size and we became very fond of her.
However, about 6 years later, Maggie started having episodes of vomiting. In February of 2022, a vet examination showed that she had 2 tumors in her abdomen. You could even feel them from the outside. The vet thought it might be lymphoma and put Maggie on prednisolone to reduce inflammation and to make her more comfortable. We also immediately started giving her Essiac. We brewed the 8-herb powdered form of Essiac at home and gave Maggie 7.5 ml of the tea twice a day by squirting it into the side of her mouth with a plastic syringe. We also gave her an extra little dose here and there in a treat of tuna or salmon juice that she could lick up just to help her recovery in the first 3 months. Our veterinarian had given her only 1 to 2 months to live when she was diagnosed and we really didn't know if it was too late for her to recover or not. However, my wife was dedicated and would do anything for this cat. Maggie is her baby. So, she diligently got the Essiac in Maggie morning and night.
Maggie easily passed her 1 to 2 month prognosis point and we took her back to the vet for a follow-up visit a little over 3 months after she'd been diagnosed. The vet couldn't find any tumors and he called her the "Miracle Kittie!" We are still giving Maggie the Essiac to make sure her cancer does not come back, and we're thrilled that she was saved from suffering after the hard start to life she'd already had.
Bryan, Massachusetts
August, 2022